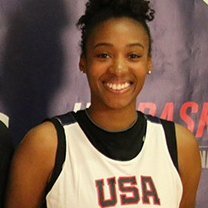 Vee YOUNG remplace Kayla ROBERTS à Contern
Pour remplacer Kayla Roberts qui quitte Contern au 15 octobre 2019, AB Contern a engagé Vee Veshaundra YOUNG 1,85, 30 ans.
Elle a joué ses deux dernières saisons en 1. Bundesliga à Heidelberg et Hannover et auparavant dans différents autres pays, dont la Suède, la République Tchèque et la Roumanie.
Les démarches administratives sont en cours pour que Vee puisse être alignée dès le prochain Weekend.
Welcome in Contern Vee, and good luck and plenty of success with our Team
Good luck also to Kayla for her new challenges !