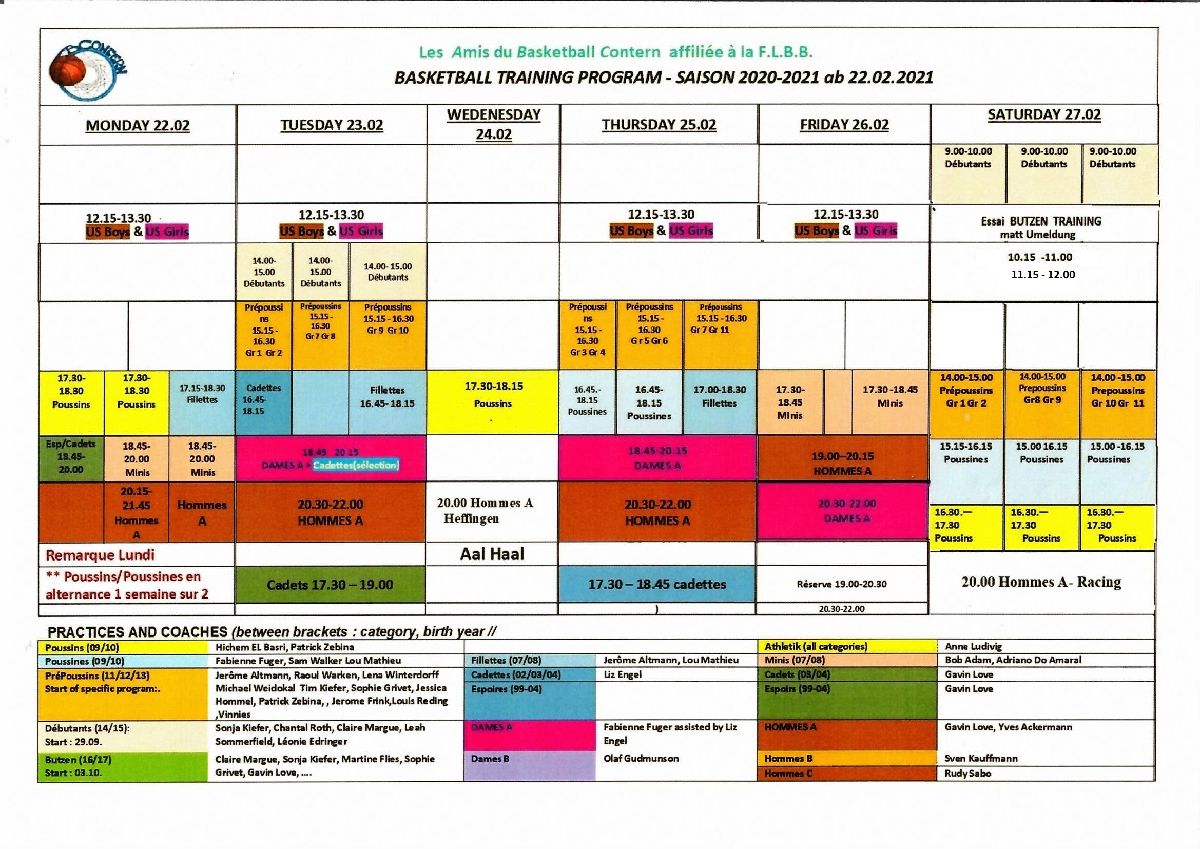 Trainingsplang ab dem 22. Februar 2021 - update 24.02.2021
Training ab dem 22. Februar 2021 - update 26.02.2021
   No verschiddenen Gespréicher haut am Laf vum Dag wäert och den AB Contern ab muer 22. Februar 2021 erëm mat de Jugendtraininger ufänken, an zwar nom Schema an no de Reegelen di virum « Homeschooling » gegollt hunn.
Mir leeën spezielle Wäert drop dass besonnesch op Folgendes opgepasst gëtt :  

Fir d'Traineren : dass wierklech keen Mixen vun de Gruppen gemaach gëtt, net innerhalb de Seancen an och net vu Woch zu Woch.A mir profitéieren vun der Geleeënheet fir ze rappelléieren dass keen 1 géint 1 méi um Training erlaabt ass. 2 Meter Ofstand mussen ëmmer gehaalen ginn.
Fir d'Elteren : Mir insistéieren dass d'Elteren hier Kanner eréischt 5 Minutten (maximum 10) virum Training an d'Hal bréngen, an net wéi et e puer Mol de Fall war,  schon eng hallef Stonn virdrun. An dann och d'Kanner erëm ofhuelen 5 Minutten (maximum 10) nom Schluss vum Training.
NB : wann an den nächsten Deeg nei Instruktiounen kommen sollten, deele mer Iech déi direkt mat. Dës mussen dann natierlech applizéiert ginn; mais lo musse mer mol ukommen !
De Comité vum AB Contern



   Suite à divers contacts aujourd'hui, AB Contern reprendra ses entrainements pour jeunes dès demain 22 février 2021, et ce selon le schéma et selon les règles qui étaient en vigueur avant la phase du « homeschooling ». 

Nous mettons l'accent plus particulièrement sur le respect des points suivants:

Pour nos entraineurs : Que soit assuré qu'aucun mixage des groupes ne puisse avoir lieu, ni endéans une séance, ni de semaine en semaine. Et nous profitons de l'occasion pour rappeler qu'entretemps des exercices en 1 contre 1 ne sont plus permis ; il faut respecter une distance de deux mètres.
-      Pour les parents : merci de déposer vos enfants à l'entrée de la salle seulement 5 minutes (10 au maximum) avant le début de la séance et non déjà une demi-heure avant, comme ce fut le cas à l'une ou l'autre occasion dans le passé. De même nous vous remercions de reprendre les enfants après l'entrainement endéans 5 minutes (10 au maximum)
NB : au cas où il y aurait prochainement encore d'autres instructions, nous vous les communiquerons sans délai et nous les appliquerons sans faute; pour l'instant, nous sommes contents de pouvoir recommencer ! 
Le Comité de l'AB Contern



   Following several contacts during the day, AB Contern announces that its youth practices will restart as from tomorrow February 22 and this under the same schedule and under the same rules and conditions that were in place before the « home schooling » interruption.
We would like to insist and make sure that the following aspects will be enforced :

For our coaching staff : that they make sure that no mixture between the different groups will be made, not within a specific session, and not from week to week. And we point at the fact that our sessions are no longer allowed to have direct contact or 1 on 1 exercices ; the kids should keep a distance of 2 meters. 
-        For the parents : please bring your kids  only 5 minutes (maximum 10) before the practice starts; and not already 20 or 30 minutes ahead of practice time as happened a few times in the past. And obviously please pick up your kids 5 minutes (maximum 10) after the end of the session.
NB : as soon as we will receive additional or new instructions, we will inform you immediately and make sure they are respected as well! Today we are happy to be able to restart our activities !
The Committee of AB Contern